PACIFIC MOON
BAR & GRILL
PAN ASIAN FLARE AND SPECIALTY COCKTAILS
SINCE 1998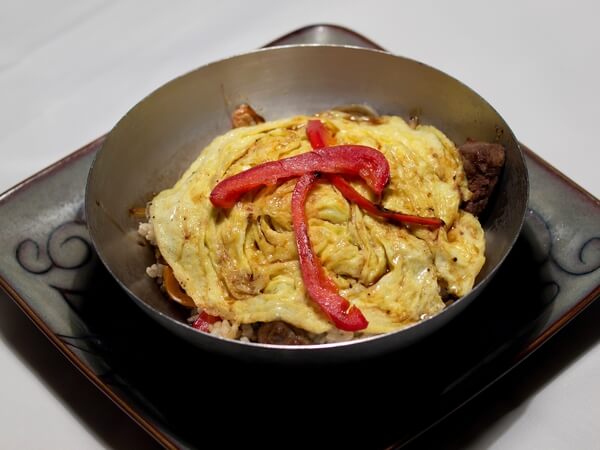 MARK & MIKE BOWL
BEEF AND CHICKEN COOKED IN A HOUSE TERIYAKI SAUCE SERVED OVER STEAMED RICE TOPPED WITH AN OMELETTE EGG.
SESAME CHICKEN
TENDER CHICKEN BREAST BATTERED, LIGHTLY FRIED THEN TOSSED IN A HOMEMADE SWEET AND SPICY SAUCE.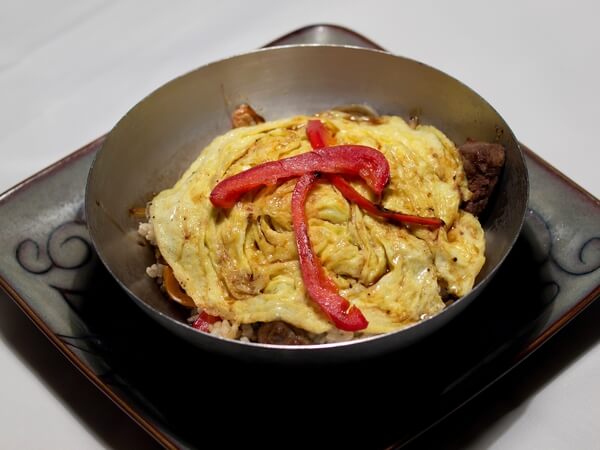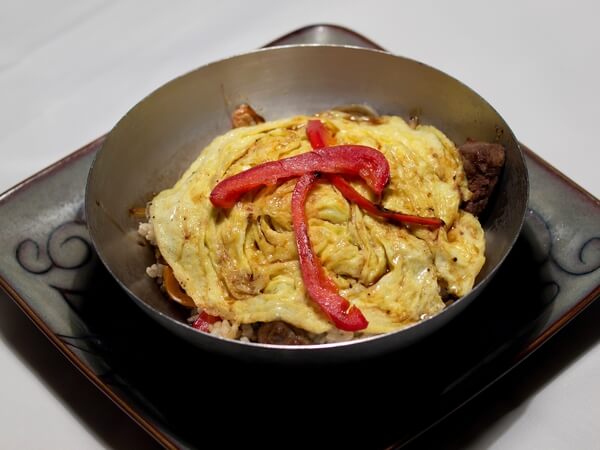 RACKER SIRLOIN
12 OZ. SIRLOIN GRILLED TO YOUR LIKING SERVED WITH HAN'S SPECIAL SAUCE
MEET THE CHEF
HAN OLMSTEAD – EXECUTIVE CHEF
Chef Han Olmstead started this venture of Pacific Moon in April of 1998. One year later her daughter, Marika Olmstead, joined her, and since they have been culminating Pacific Moon into what it is today. A place where everyone can enjoy great company infused cocktails, and of course, a unique style of cooking that is all their own. Chef Han or Mama Han, as she is known, is a military wife and in their travels, as a family domestic and abroad she gathered a collection of recipes. Taking those same recipes and putting her own spin on it with her touch of Asian flare, she devised a menu full of flavor unlike any other. Pacific Moon owners and staff keep true to the family practice of "no one is a stranger" and welcoming new clientele to enjoy this eclectic cuisine, daily. We all share such a passion for the establishment, that every time you are here it's an out of this world experience!!
Born Yung Suk Han on Jeju (Cheju) Island off the tip of South Korea. Mama Han experienced beautiful island life growing up with fresh produce and a vastness of unique flavors. It is here her passion started for anything culinary. She met John Olmstead when he was stationed near Seoul in 1972 with the United States Army. They soon after married, had two children, traveled the world, and retired in San Antonio, Texas. Han loved to host parties all throughout her husband's 20-year military career as many officers' wives do and prepare elaborate buffets of unique food. Soon, friends from their military travels followed suit and retired in Base City USA. Knowing how well she put dinner parties together, they convinced her to open a restaurant. Mama Han still loves to host and has a hand in the kitchen and every dish made on a daily basis. She loves the family she has cultivated and welcomes more PAC members every day. Her unique style, her presence, our dedication to freshness, the inviting ambiance, and above and beyond service is pretty addicting. We hope that you will enjoy it too!!